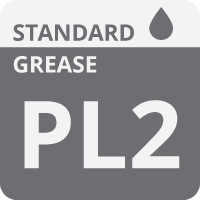 PL2 Alta resistencia

Aceite mineral + Sulfonato de calcio, Gris
Rango de temperatura de funcionamiento : -20°C ∼ 232°C
A lithium complex thickened grease blended with high viscosity base fluids for exceptional film strength
Fortified with molybdenum disulfide for additional load carrying capacity and anti-wear performance
A unique blend of extreme pressure, anti-wear and rust, oxidation inhibitors as well as functional polymers for better adhesion in wet environments and better performance at higher temperatures
Wide service temperature (-30 ℃ ~ 180 ℃)
Mineral oil + Calcium Sulfonate, Gray
PL2 grease is Heavy Duty grease that operates effectively in plain/journal and anti-friction bearings. It exhibits excellent adhesive and cohesive characteristics and are highly resistant to mechanical shearing.
Typical applications :
Ball/roller bearings, bushings, slides, screws, and general lubrication where heavy loads and low speed exists
Industries most commonly requiring the heavy-duty, all-weather capabilities of PL2 greases include :
Steel, Mining, Cement/Construction, Paper etc.
Excellent EP and anti-wear properties against extreme/shock loading : Minimize bearing components wear and extend equipment life
Excellent friction reduction characteristics : Easier start-up, reduced heat, and reduced energy, leading to longer bearing life
Enhanced rust and corrosion protection : Extend bearing life and performance
Excellent mechanical stability : Long-term protection
Easily pumpable in both single point lubricators and central lubrication systems
Operating temperature : -30°C ∼ 232°C